AD Global Corp is dedicated to
Import, brokerage and wholesale of Foods and Beverages to the U.S & the Caribbean
We specialize on quality and well-priced Wines, gourmet Foods and Beverages
AD Global Corp was registered in Florida, USA in 2008, FEI number 383791839, as direct import and wholesale permits and regulatory specialist nd provider for FDA USDA and other other federal and state agencies. We are specialists in the procurement, import and export of Foods and Beverages.
Founded by a team of professionals with 30+ years professional experience in International Commerce, Marketing and Sales in the Food industry offering Direct import, Wholesale and Distribution of Wines, Foods, Beverages & Natural Products. AD Global Corp has partnered with small and medium manufacturers of fine wines, beverages and quality foods to import, act as broker and market their product in North America and the Caribbean.
AD Global Corp works directly with producers worldwide that are looking to market their brands to U.S. and Caribbean distributors, specialty stores, wine merchants, food chains and supermarkets. We offer FDA compliance, direct import, and support in shipping and warehousing.

A few things we're great at
We continually strive to be a great company. AD Global Corp is committed to providing high-quality products and services to our customers. Our company continuously seeks to develop strategies and services that will benefit our suppliers.
If you have a great product to sell or looking to buy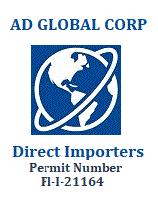 AD GLOBAL CORP is an International food and beverage consultant and broker, import-export, FDA USDA compliance and labeling. Operating in USA, UK, Europe and the Caribbean.