AD Global Corp promotes your brands and products using the best strategy
Brand promotion is the way to inform, remind, persuade, and influence consumers to drive their decision towards purchasing the product or service under a brand.
When expanding to international markets, brands need to understand the right ways to reach their target audience. Overcome cultural and language barriers, consumer tastes, market entry and lifestyle.

Our staff is multilingual and multicultural.

AD Global Corp works closely with each vendor to develop knowledge-based pricing and promotions strategies to maximize sales within the budgetary restrictions of the vendor.
Why you need a Brand Marketing Strategy?
Because it is essential to promote a positive brand image, price information, and special features of the brand. It also helps to respond effectively to your competitors marketing efforts.

GET FEEDBACK ON YOUR BRAND
BUILD BUSINESS CONNECTIONS
The Caribbean is a growing market in need of products to satisfy the great demand and unique palate.
We understand producers are busy, so AD Global Corp takes care of everything for our suppliers from product selection, venues, import-exports logistics and everything needed to exhibit ad promote brands from our portfolio and also other producers looking to expand to this market.
Our Food & Wine B2B Events are organized with our partner TheFancytipple.com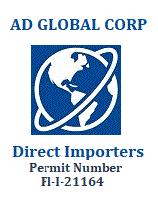 AD GLOBAL CORP is an International food and beverage consultant and broker, importer-exporter, provides FDA USDA compliance and labeling. Operates in USA, Europe and the Caribbean.