We offer a wide range of products, sourced direct from factories worldwide but mainly in Europe. Our specialty lies in beverages and shelf-stable foods, specifically canned and packaged goods, and much more:
Beer
Champagne
Cider
Rum
Wines and
fortified wines

Coffee, Cocoa and Tea
Juice
Milk products
Plant based
Soft drinks
Mineral Water
CANNED, packaged,
PRESERVED
Bakery
Cheese & dairy
Confectionary
Fish and seafood
Poultry & Meats
Frozen food
Fruits
Groceries
Ready-to-eat meals
Vegetables

specialty & Gourmet foods
Condiments
Ethnic
Free-from
Healthy snaks
Ingredients
Natural and Organic
Nuts
Special diets
Superfoods
Vegan
Other


We are selecting representatives, and distributors for Venezuela
We sell a wide range of wines, foods and beverages. As we deal directly with the producer, we guarantee the quality and exact origin of our goods.
If you are looking for a particular product, we can help, contact us.
Our catalog carries products of high-quality and competitive prices. We do not sell cheap and low quality industrial products,
We are very selective with the brands we represent. We can help you source Wines, Foods and Beverages according to your needs.
buy LOW QUANTITIES AT WHOLESALE PRICE
As we deal directly with the producer we get the best price deals. Purchase in small quantities, by pallet or containers. Buy large quantities to get great discounts.
ATTEND OUR TRADE EVENTS FOR FREE
To be able to attend our B2B events as professional buyer, ou need to register online, just click the image. It's Free!
WE SELL IN DIFFERENT CHANNELS
Natural Food Stores/Chains
Specialty Food Stores
Supermarket Chains
Independent distributors

Grocery Stores
Horeca operators
Food service distributors
Wine & Spirits merchants
E-commerce
Others that suit our brands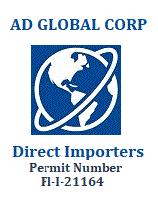 AD GLOBAL CORP is an International food and beverage consultant and broker, importer-exporter, provides FDA USDA compliance and labeling. Operates in USA, Europe and the Caribbean.